Snow party lyon
On a fantastic site, in wild nature, with snow groomed specially for you, you will live the emotion of a real challenge organized on snow. All the elements are gathered to make your Snow Party afternoon a complete success : site beauty, winter atmosphere, and sportive and playful activities
Real snowy Olympic Games by teams, organized in the form of challenges, we offer to you a friendly and playful course, punctuated by sportive activities. Everytime in a joyful and laughing atmosphere.
The main rule is : the teams will try to realize as good as possible performances on the setted workshop. After this challenge, a team rank will be established by us.

Activity progress :
Teams are facing into 4 crazy challenges :
Human curling : your friend will sit on a buoy. Push him or her and try to aim the three curling targets to get points !
Steering wheel sledges and Paret descents : go fast, drive precisely and ... be careful to the crashes !
Giant Skis : try to move on giant ski jumping skis with all your team on it in the same time.
Bubble zorb soccer on the snow : take part in a totally crazy soccer game by teams. You will be equipped with giant bubbles and will be able to strike your opponents in this hilarious activity.
In which occasion Snow Parties are possible ?
Those activities are awesome adventures and can be amazing for many type of events : your seminars, a group activity, your bachelor party, your hen party, an employee representative comittee activity, a birthday or even without any reason, just for the pleasure of challenging your friends or your family during a wonderful afternoon !
During all your Snow Party, one of our qualified instructors will frame your group to keep everyon safe, and will be delighted to assure the party ambience !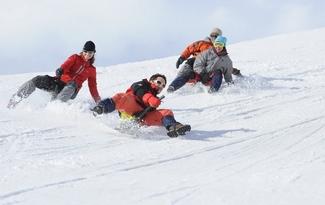 Snow Party
This Snow Party session contains 4 different activities :
Human curling
Paret and steering wheel descents
Giant Ski
Snowy bubble foot
Real snowy olympic games for your team, organized around a challenge theme, TAKAMAKA offers you a friendly an
...
1 result found
Results 1-1 - Page 1/1
Book your snow party lyon
With a gift box, you will offer the unusual present of your choice among all the activities we are offering.