igloo expedition lyon
a night in an igloo : a real expedition next to lyon
From departure of the Massif des Bauges, around 1h30 from Lyon, the most sportive of you will have the pleasure to take snow rackets to hike and build an igloo campsite ! After a small briefing, the bag check up and the necessary materals distribution for this igloo expedition by night, Ben, your guide, will leave with you and show you all the fantastic mountains. After an hour hiking with rackets on a course with a descending profile, you will store your bags, and activate yourselves for the igloo building ! A few basic technics allow to pass a night under an igloo. It depends of the snow quality. Surviving is the main word for this igloo excursion, so you will have to be really good at igloo manufacturing ! Of course our qualified instructor will (just a little) help you.
Afterwards, the igloo building is finished, and you have deserved a typical aperitif from Savoy and a fondue taken in the bag at 1500 meters height. A good reason to appreciate your night under an igloo ! The next day, from your High Cold bag, you will also love your breakfast alone in wild nature before you tranquilly go back to the cars.
This awesome excursion allows to discover all the natural
A real excursion to live a night under an igloo near to Lyon !!
Week-end process :
Departure Saturday at 14h
- 1h of snow racket hiking to join the campsite
- 2h of igloo building
- for the evening : fondue and aperitif savoyard
- Your night dreaming under your igloo.
- Breakfast : coffee, brioches
- 2h of snow racket hiking
- Activity finishes Sunday at 11h

This acitivity is possible in January, February and March
You will always be framed by a qualified instructor for your safety and the good progress of your Igloo Excursion.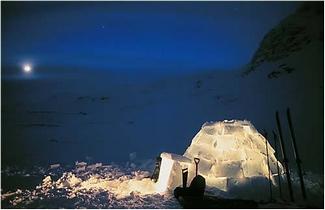 Igloo Expedition
Get out of Lyon city and live the unique experience of sleeping into a real igloo !!
From departure of Massif des Bauges in Savoy, from 1h30 of Lyon, the Inuit's home is waiting for you in this polar excursion, not far away from Lyon. Be attentive whe
...
1 result found
Results 1-1 - Page 1/1
Book your igloo expedition lyon
With a gift box, you will offer the unusual present of your choice among all the activities we are offering.