PEDESTRIAN URBAN RALLY
LYON, TRABOULES, ST JEAN, NOTRE-DAME OF FOURVIÈRE, A FANTASTIC RALLY IS WAITING FOR YOU!
Our pedestrian rally in the heart of the Old Lyon, will enable you to discover the history and charm of Lyon and its surroundings. The combination of riddles, humour and surprise will result in an unforgettable experience for you and your team!
Throughout the old town streets you will attempt to solve questions with the help of a map and road-book. Indeed, your team will have to navigate correctly in the Old Lyon. Splendid and varied, we have organised for you a superb itinerary through the old town of Lyon, site of the Unesco World Heritage. This great incentive experience is waiting for you! During this team building activity, you'll have to go up to Fourvière with the Funicular. Will you be strong enough to go down by walk?
You'll also have to taste the famous wine and find the recipe of the typical dishes from Lyon. Make sure you negotiate well with our guide. He mays reveal you the secret of the "quenelle sucrée"... Yummy!
At the end of the pedestrian rally, an award ceremony will take place in a typical "bouchon" of Lyon.
BOOST YOUR RALLY IN THE OLD LYON WITH SOME CHALLENGES :
Tasting of local speciality in a wine cellar
Blowpipe shoots
Precision shoots with a laser rifle
Street golf at the to of the hill of Fourvière
A blind course in the gardens
Smoothie Bike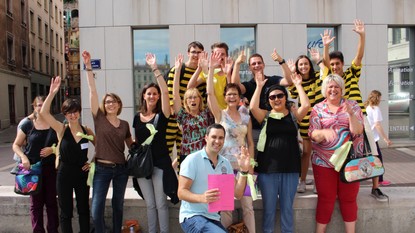 characteristics of your pedestrian rally lyon :
Time of activity : 2 at 3 hours
Effectif : 10 mini / 1000 maxi.
Period : all year.
Equipment required : Casual clothes and comfy shoes
price of the pedestrian rally LYON : consult us.
Our Team is available and reactive to respond to your wishes.
Axel | TAKAMAKA Lyon
Tél: 04.78.79.28.13
Restons connectés
Vous pouvez suivre toute notre actualité sur les réseaux sociaux